Why hire a Graphic Designer?
Graphic designers build the visual identity of a brand and company, and branding is what can make your business stand out from the rest.
Your audience can observe graphics or logo designed poorly. These visuals can show unprofessionalism that can slowly harm your brand. Graphic designers are meticulous when it comes to this. They create a strong and distinct visual identity, personalized with the vision of the business in mind. And with a consistent and confident look, a brand can develop the trust and loyalty of its audience in the long run.
Graphic designers have mastered design principles and are experts in how colors, images, and fonts influence their viewer's emotions and reactions. Graphic designers consider this when they create graphics, logo, and layout design for print and digital collaterals. So by now, there is nothing to worry about getting your money's worth. Your print and digital media will get the look and feel you've wanted to convey to your audience.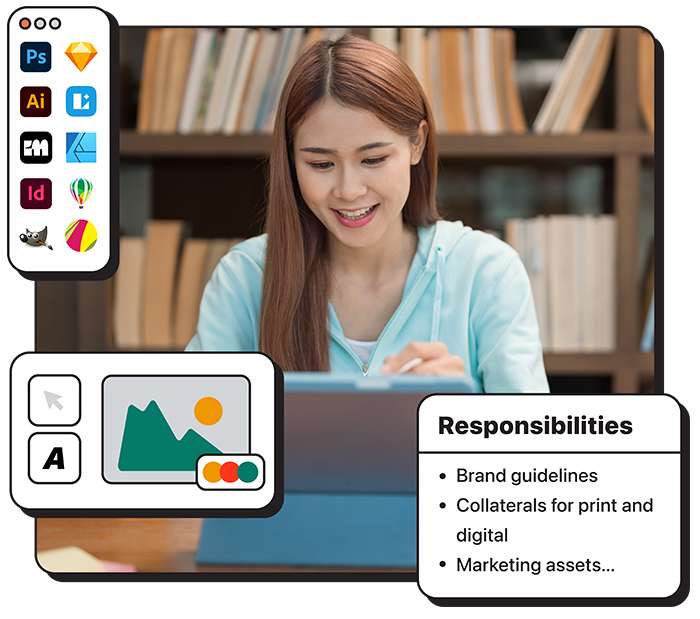 Job Description
Graphic designers are artists and communicators who produce visual material in color, typography, graphics, and computer and layout design. Their concern lies in aesthetics with a purpose, combining various visual materials and principles to create an original and consistent overall look for the brand and the company.
With the idea that form follows function, graphic designers clearly understand graphic design's contribution to marketing, emotion, behavioral response, and positive user experience.
Where they fit in the org chart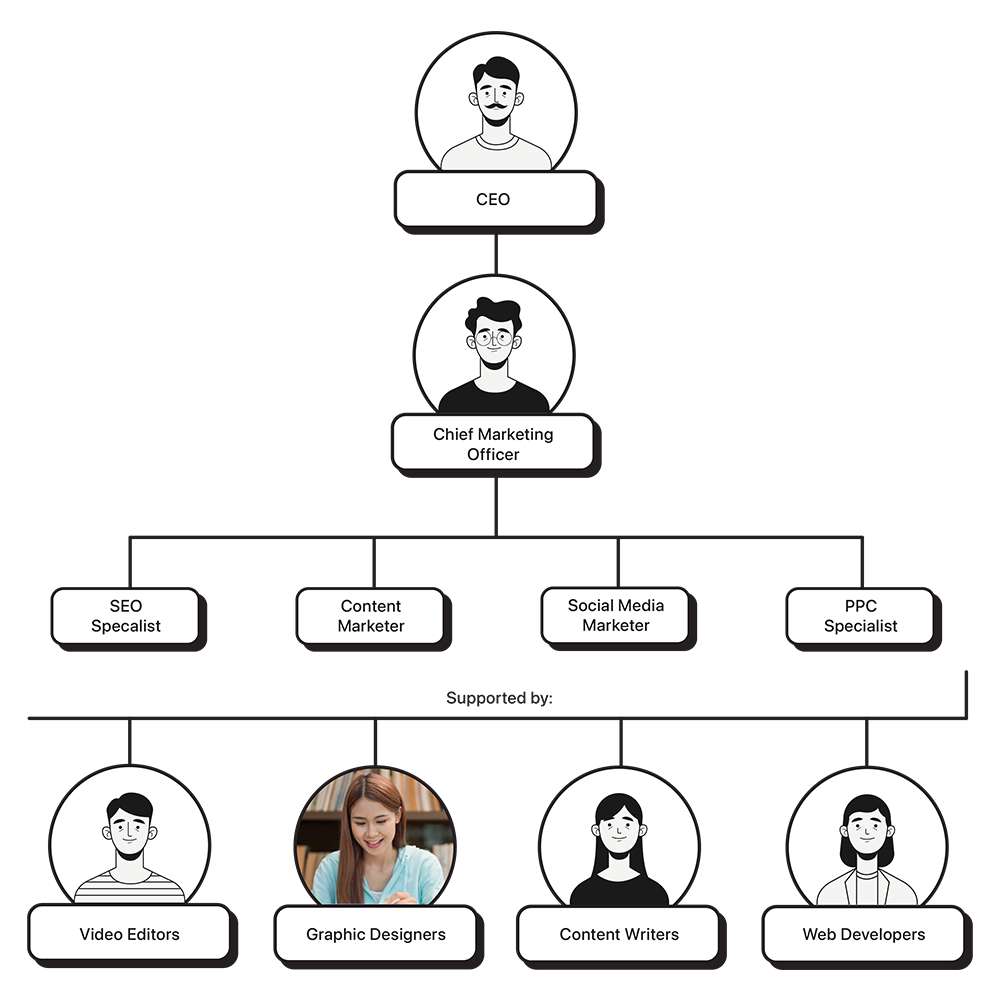 Graphic design is crafting the visual appeal for the audience's visual user experience. Graphic designers combine the visual elements— color, images, and typography— to build the overall look and feel that communicates the brand and its message, seeking a behavioral response from the audience.
Graphic designers carefully place each element to enhance the entire face while considering its usability and aesthetics. They also incorporate visual hierarchy in layout design and practice design principles that include symmetry, semantics, balance, repetition, flow, color theory, the golden ratio, and other influential fundamentals.
Since graphics and logos are accessed across different platforms and devices, it is essential to have an adaptable and responsive design in all forms and conditions.
A Digital Marketer's work is supplanted by the use of a variety of tools. There is a large array of software available at the Digital Marketer's disposal to make their work more efficient and accurate. These programs range from those that serve as a means to help communicate with colleagues and clients more efficiently, to content creation, and to monitoring activity and progress.
Downloadable Templates