Like all the other team players in a business, accountants save you time to do what you are supposed to do. They've been trained on money matters and are qualified professional accountants, and you can be assured they can save you from tax-related troubles.
Accountants are all about your finances and are experts in navigating revenue projections, industry developments, and economic conditions. They offer advice on saving opportunities and inefficient spending and can guide you to cost-effective strategies in your inventory and payroll.
Accountants are hard-wired to keep the business on the right side of the law and keep all data protected and secured within the company. They look into tax obligations and the ins and outs of running a business.
Job Description
At the most basic, accounting is the monitoring and recording process of financial transactions and accountants provide thi service. On the bigger picture, they track and handle the financial health of your business. They manage and report financial data, track cash flow, keep tabs on the accounts payable and receivable, and diagnose and fix internal financial problems.
Often assisted by the bookkeeper or the accounting technician in preparing the up-to-date books, accountants are the ones qualified to provide financial analysis, reports, and advice in management accounting, corporate finance, taxation, internal audit, and forensic accounting.
Where they fit in the org chart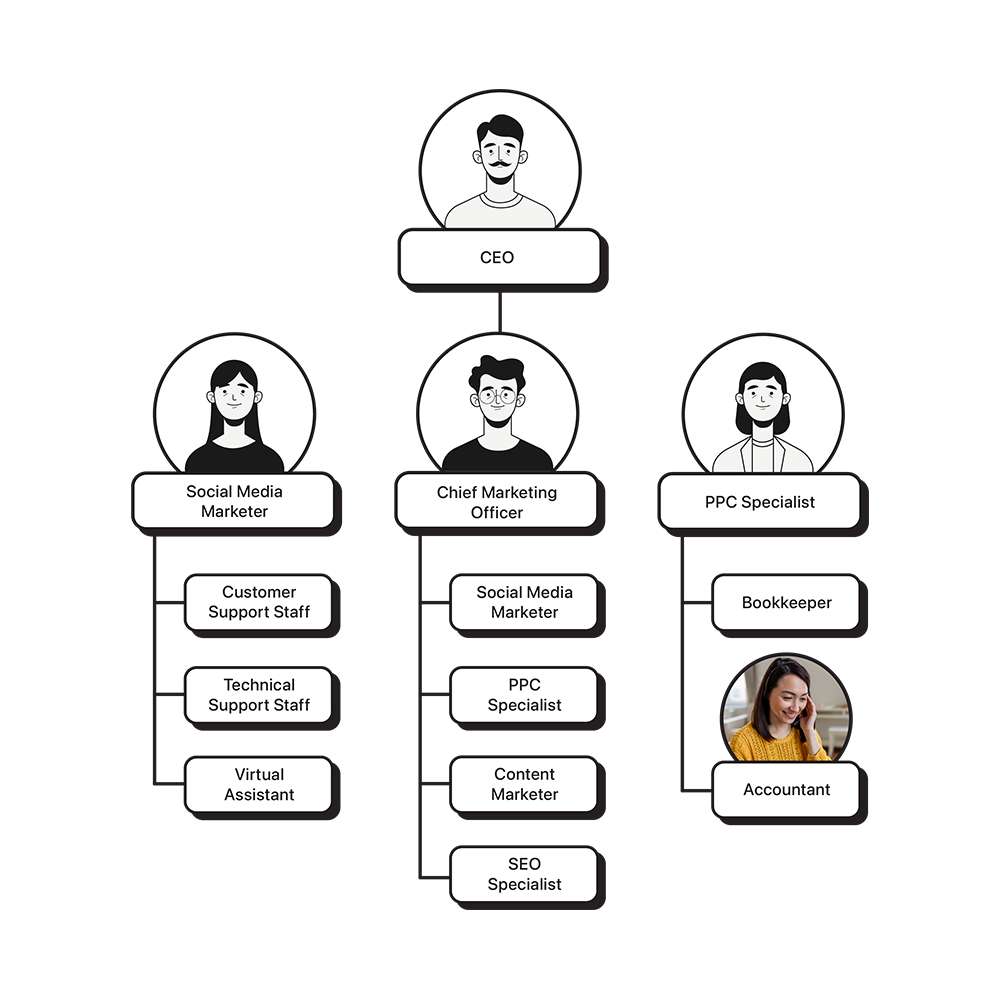 Accountants are involved in several business processes, ensuring the assets are properly managed. They often work hand in hand with bookkeepers who do the mechanical accounting process. On the other side, accountants take care of the overall reporting and statements, handle the financial analysis, and offer qualified advice on the business's financial matters.
There are various specializations that accountants tackle when securing the financial health of a business. They can go from cost accounting to evaluate a company's operations, managerial accounting to provide data for cost analysis and forecasting, tax accounting to comply with tax regulations, and financial accounting to record business transactions.
A Digital Marketer's work is supplanted by the use of a variety of tools. There is a large array of software available at the Digital Marketer's disposal to make their work more efficient and accurate. These programs range from those that serve as a means to help communicate with colleagues and clients more efficiently, to content creation, and to monitoring activity and progress.
Downloadable Templates