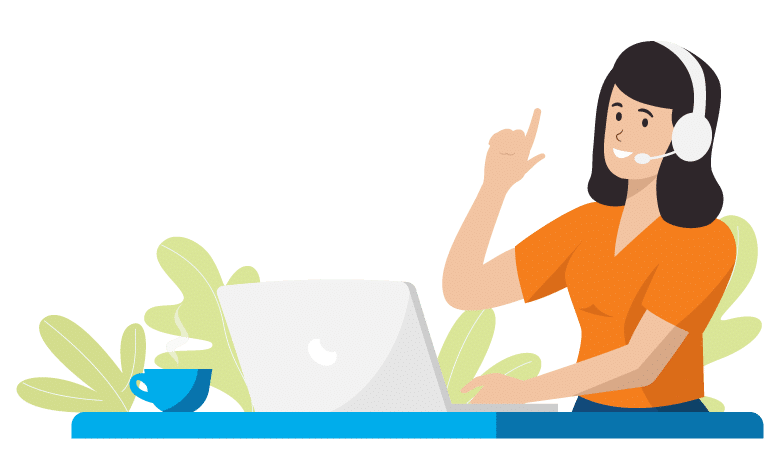 Questions?
How do I communicate with my crew member?

It's totally up to you. But we highly recommend using Teamwork, Google meeting or Zoom, a VOIP phone number or Skype. We have training videos on how to use Teamwork to send messages and task comments to your crew member effectively and efficiently.

How do I train my new crew member?

We have extensive training tips and advice within our knowledge base. Everything from creating a training calendar, to training volume and length, to setting key performance indicators and so much more — all designed to make this experience easier for you. You will have access to all of this when you register online.

How does overtime work?

We will only bill over time that you have pre-approved. Generally, your crew member will reach out to you once you reach 80% of their monthly hour's allocation. For example, if you lease a crew member 40 hours per month, they will contact you once you reach 32 hours, and request approval to go beyond 40 hours. They will only proceed once approved and will otherwise pause work at 40 hours. The overtime will be billed during the first week of the following month.

What happens if my crew member does not complete all of the hours assigned to them?

If your crew member doesn't consume 100% of their allocated hours due to absences, they will make up for those hours during the following month. Under other circumstances, it is ultimately your responsibility as the boss to ensure that your crew member is kept busy doing their job.

What hours are my crew members available to work?

Your MCC crew member will work one of the following three shifts and this information is also available on their online CVs:
23:00 – 09:00 Australia East Coast
09:00 – 19:00 US East Coast
06:00 – 16:00 US West Coast

What steps do I need to take if I wish you terminate my crew member?

If you would like to part ways with your MCC staff, we would follow the best practice performance improvement (PIP) process. which at MCC is "3 strikes and you are out". By strikes, we mean failure to reach agreed-upon performance measures. If you have provided feedback and identified specific areas that need improvement, and still, performance does not improve, let them know via a video conference that they are being let go from your team. We will likely be in a position to replace your crew member within 24 hours.

If you wish to terminate your agreement with My Cloud Crew, notice is required as per the following. For terminations that take place before the 15th of the month, your crew member's final day with you will be the final day of that month. For terminations that take place after the 15th of the month, the contract ends on the 15th of the following month.

As payments are made in advance, please note that refunds will not be provided should you fire your crew after payment has been made.

How is time billed?

All billable time is accounted for within our cloud task/staff management platform. This is updated in real-time as your crew member lets the virtual clock run against the task they're working on. If you require your crew to do overtime, simply let them know; we can bill the overtime automatically on the next billing cycle.

How does annual leave work?

Generally, all MCC staff are required to provide their clients and My Cloud Crew™ with a two-week notice when applying for leave. The number of annual leave days depends on the location of your virtual employee. If they are in the Philippines, they have up to 15 days of paid leave, as reflected in our terms of service. This equates to 1.25 days per month. This means that should you have a full-time MCC employee, they will be entitled to 1.25 days per month of paid leave. The way this plays out, in reality, is that your monthly staffing retainer amount will remain the same (i.e., will not be reduced) if your virtual employee takes their 1.25 days off. If you have leased your team member for less than a full-time load, the same maths will apply — as a percentage of a full-time load.

I am based in the US, should I hire my staff to work my timezone, or will it work if they work Manila/Philippines day shift?

For most roles, we firmly believe that a few hours of overlap (your workday overlapping with their workday) each day is more than enough to form an effective working relationship. For marketing roles such as content marketing, paid ads management, and social media and finance roles such as bookkeeping and CFO, this will certainly work well. Perhaps even for a general virtual assistant, as they can continue working on your administration tasks after you have logged off, leaving your inbox cleansed and other matters are taken care of when you wake up every day. Also, when you use TeamWorkPM for task management, they will start those tasks the moment they log in (6am Manila time) and can continue working as your day comes to an end.

What is the minimum contract length?

 Agreements are 6, 12 or 24 months. 12 is the standard. If you opt for a 24-month engagement, you will receive a 5% discount. Conversely, you will be charged a 5% premium if you opt for a shorter-term engagement of 6 months.

Do your staff work in an office?

We are fortunate, given the ongoing lockdowns, that all staff work from home. Our staff have worked from home since the inception of My Cloud Crew. The owner, having previously owned an office-based outsourcing firm, believes that the incremental costs of rent, internet, and air conditioning, (far more expensive than onshore costs) remove the majority of the cost savings that our clients seek from offshoring. With TeamWorkPM, chat, and other cloud technology, we actually have more oversight over our staff than the old model of everyone sitting in the same room. We are also not burdened by the geographic restrictions that come with needing to find the right talent within a 5km radius of a building. We have access to talent throughout the entire country, which enables us to choose the very best person for the role, and not simply the best person who happens to live nearby.
Get in touch and start your search
Complete the form and you will be directed to online CVs and video interviews of our talented crew who already work for My Cloud Crew full-time and are ready for interview or trial today.