You might think of working on the video yourself or hiring an amateur video editor to do this to save on cost. You would later realize that editing a single video is time-consuming enough. You're probably not going to get the kind of video your business needs, which would waste time and effort.
Getting something in exchange for a decent cost and time is a great deal knowing how much work, quality, and experience are put together in the process. Video editors have mastered the skills you need for your videos. They also offer their software, tools, and equipment for production. Often their devices contribute to the overall quality and efficiency of their work.
With their background and experience in video editing, professional video editors can show their portfolios as proof of their work. It will give you a look into what editing services and techniques they have previously done and can do for your material. At this part, you can already guarantee quality work right off the bat.
Video editors have honed their craft with practice and often with collaborative works; that one aspect each editor can offer is a unique eye and take on the visual elements for each video. You will be assured of a captivating visual narrative as a result.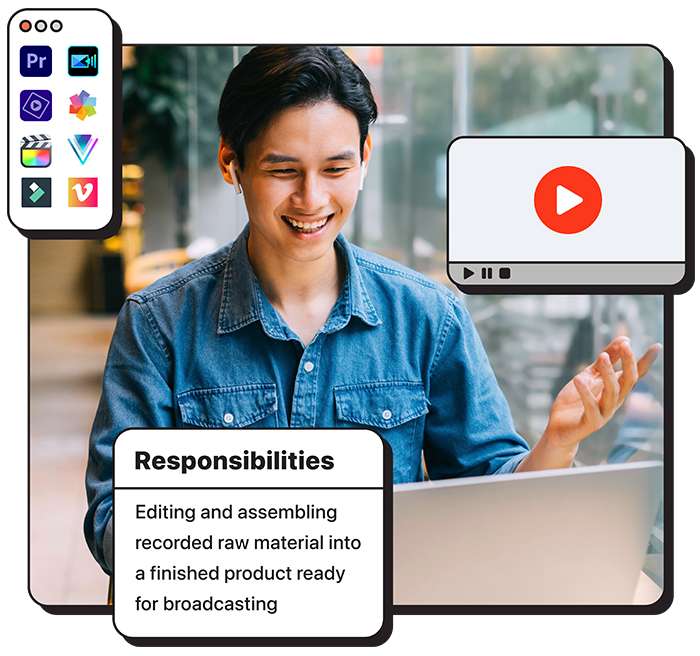 Job Description
Video editors are professionals that manipulate and combine visual and aural pieces to create compelling stories. They are excellent editors of footage, sounds, dialogs, film pieces, stills, and graphic elements with expert knowledge of modern editing techniques and software.
Video editing is a long and complex process that displays the experience and mastery of the creator in the final output. Video editors work closely with the manager or director to complete this, translating ideas and concepts into broadcast-worthy pieces that will engage the audience.
Where they fit in the org chart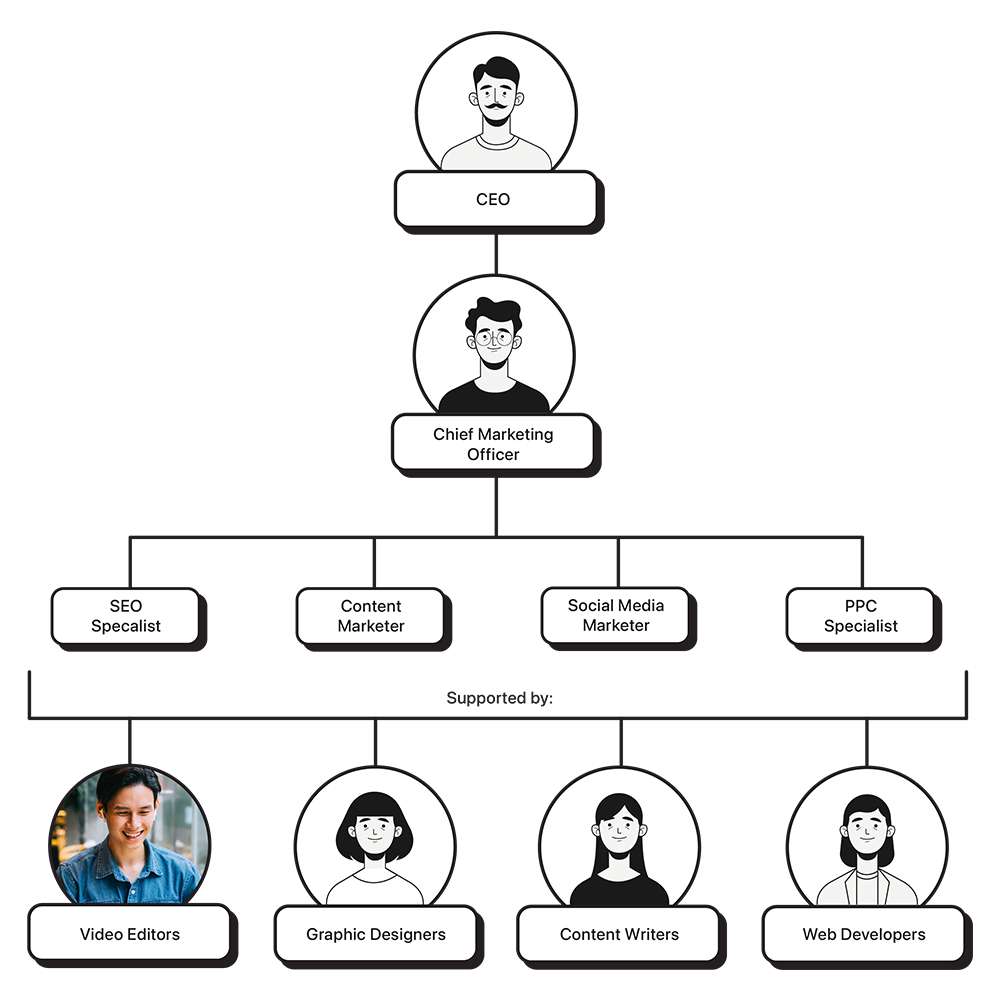 A video is critical in communicating a narrative, especially in this multimedia digital world. Video editors know that consumers value this tool to educate themselves about products and services, and businesses can encourage their decision-making. To create the story piece, video editors cut, split, combine, and assemble footage, images, texts, sounds, and other elements that inform the audience more than a picture can.
Video editors start the project by brainstorming and studying the business and the manager's or director's vision. In this stage, they develop video storyboards that include a script, shot list, and critical visual instructions. Another step of the process is correcting and enhancing the light and color of the footage. And after all that, still, a big part of the process is the constant reviewing and fine-tuning before releasing the final work.
A Digital Marketer's work is supplanted by the use of a variety of tools. There is a large array of software available at the Digital Marketer's disposal to make their work more efficient and accurate. These programs range from those that serve as a means to help communicate with colleagues and clients more efficiently, to content creation, and to monitoring activity and progress.
Downloadable Templates