Why hire a Social Media Marketer?
Businesses can take advantage of how social media marketing is known to transform and influence consumer behavior. It can go from driving engagements with content to getting data from your audience and consumers.
Many companies have fallen out of business and damaged their brands because of social media. Some things that might be harmless for one may be offensive, get you suspended, or even a lawsuit. One bad social media campaign can do this, and this is not something you should be worried about when running your business.
It pays to assign someone invaluable in navigating complicated algorithms and crowded social media spaces. With successful social media marketing, your business will reach more people and increase revenue. This can be done with the social media marketer specializing in thinking outside the box for campaigns and content while utilizing the best practices.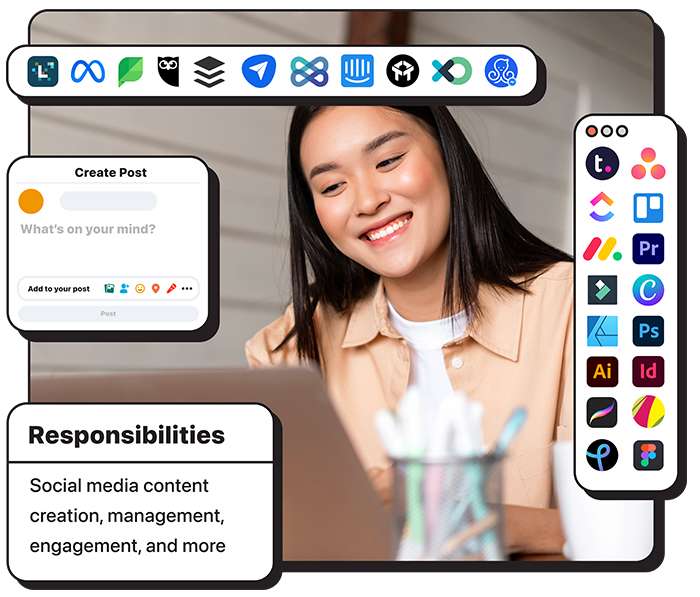 Job Description
It is crucial to have a specialist in social media terminology, technology, and tools to achieve a successful social media campaign.
Social media marketers strengthen the company's brand and image on social media platforms through brand promotions and marketing campaigns. They are also influencer marketers that partner with or involve individuals with a large following and an expert who can be valuable in brand campaigns such as endorsements, product placements, and mentions.
They are dedicated to attaining marketing goals and constantly encouraging new ideas, producing new content, managing advertising budgets, analyzing performance metrics, and keeping up with the news and trends.
Where they fit in the org chart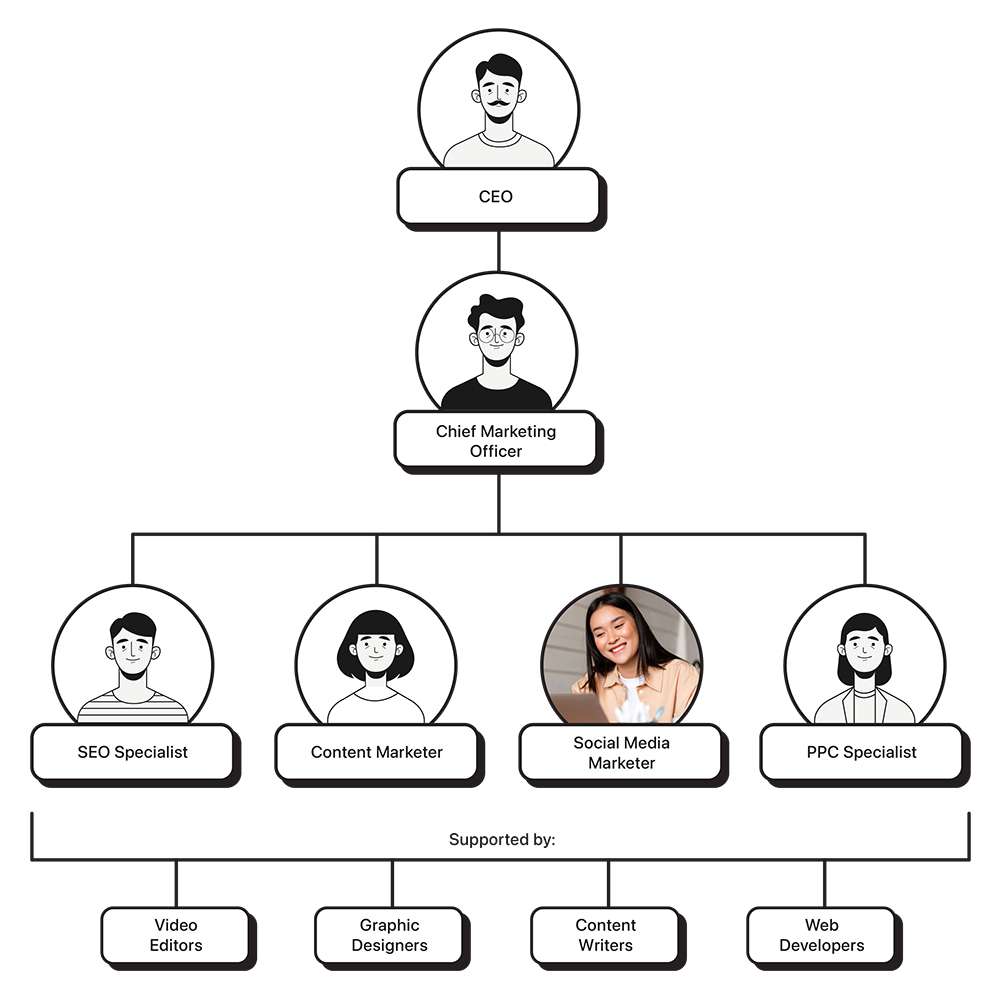 The trajectory of social media is moving upwards. With this, marketers are developing strategies to get the competitive edge for engagements, working around connections, interactions, and existing and growing customer data.
Social media marketers focus on the content and interactions between the company and the consumers, supporting Customer Relationship Management (CRM). Studying and brainstorming about shareable content, brand exposure, product recommendations and reviews, tracking metrics, and taking advantage of viral marketing all take part in the process.
Social media marketers know that positive interactions build customer relationships and encourage more interactions. The latter hugely affects the engagement rate, enhancing brand visibility and further helping the business grow.
A Digital Marketer's work is supplanted by the use of a variety of tools. There is a large array of software available at the Digital Marketer's disposal to make their work more efficient and accurate. These programs range from those that serve as a means to help communicate with colleagues and clients more efficiently, to content creation, and to monitoring activity and progress.