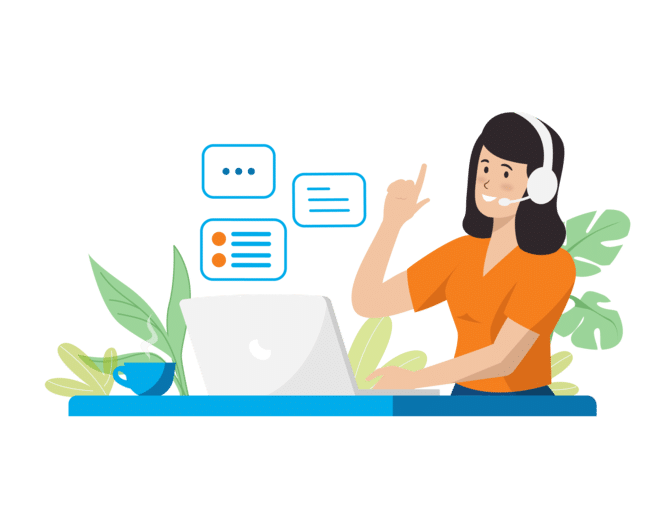 Multi-Channel Technical Support Specialists
Our highly skilled Live Chat agents are ready to be added to your live chat channels immediately. Interview and hire, and they will be up and running within 24 hours. Available during your business hours, from as little as 40 hours per month.
If you require additional consulting in the areas of scripting, canned responses, queue structure, agent volumes and load balancing, let us know as you're choosing your team members — we're more than happy to help!
Live chat support
Live chat support has been a core skill of the Philippines workforce for over 15 years, with hundreds of thousands of staff now trained in the skill of live chat support. Most live chat support platforms allow your agents to comfortably manage 5-10 simultaneous chats.
Voice support
With the strongest grasp of spoken English amongst all offshore staffing options, the Philippines talent pool is well-placed to handle your inbound support traffic. With a seasoned team leader on staff, you can also replace your role as manager and outsource the function entirely.
Email support
Large volume of monthly support emails to handle? Manage your technical support inbox with confidence by leasing on-demand My Cloud Crew support agent(s). Work with your crew to build out your support desk with email templates, content snippets and more.
Client training programs
Our technical support specialists will become your partners in customer engagement and satisfaction for your IT-related products. Once they know the ins and outs of your product or service, they will be well-equipped to train your customers on how to use them, troubleshoot technical problems, and participate in the development of client training programs to proffer recommendations on instructional language.
1. Search for crew
Choose from a myriad of roles and skill types
2. View online CV
View the pre-recorded interview, and read the skills and previous work experience.
3. Interview
(Optional) If you need more information, schedule a Zoom video interview with your prospective crew member.
4. Kickoff
Choose your commitment length and volume of work you need done.
Get in touch
Take a minute to let us know how we can help. Please complete the form and we'll be in touch shortly.
Loved by the companies we work for.
"I was just reviewing our KPIs this morning and wanted to let you know what a fantastic job you're doing."
Andrew Farnham, Independent Music
"Super impressed with her work. Her accuracy and attention to detail is amazing."
Adam, ProxyRack
"She has already created processes and is making the business run ways better than the way it was before."
Adrienne, Second Chance Credit