Case study: ACME Design Company
ACME Design provides product photo editing services to online sellers — removing backgrounds, adding shadows and other cosmetic adjustments. Their fully remote team of graphic designers come from 10 different countries and six different time zones.
With a lofty goal of 24-hour support and a seamless omnichannel experience, ACME had an in-house support team of five people working in shifts, handling support requests from different channels — email, live chat, social media DMs, even SMS. Phone calls were rare. The volume of work fluctuated — some days were quiet, some days there was a spike in volume and the team scrambled to keep up. On slow days, ACME was basically paying its support team to drink coffee and wait for a ping.
Having an in-house support team meant ACME needed to take care of every single aspect of employment: recruitment, training, salary and benefits, hardware, software, office space and other overhead costs. Clearly, an in-house support team wasn't a sustainable solution. They considered outsourcing, but the company founders were anxious about the service quality, data security, and lack of control. Eventually, they decided to give it a try.
Here's how we eased from a contractual relationship into a solid partnership, reduced their overall per-contact costs, and ultimately improved the quality of ACME's customer support.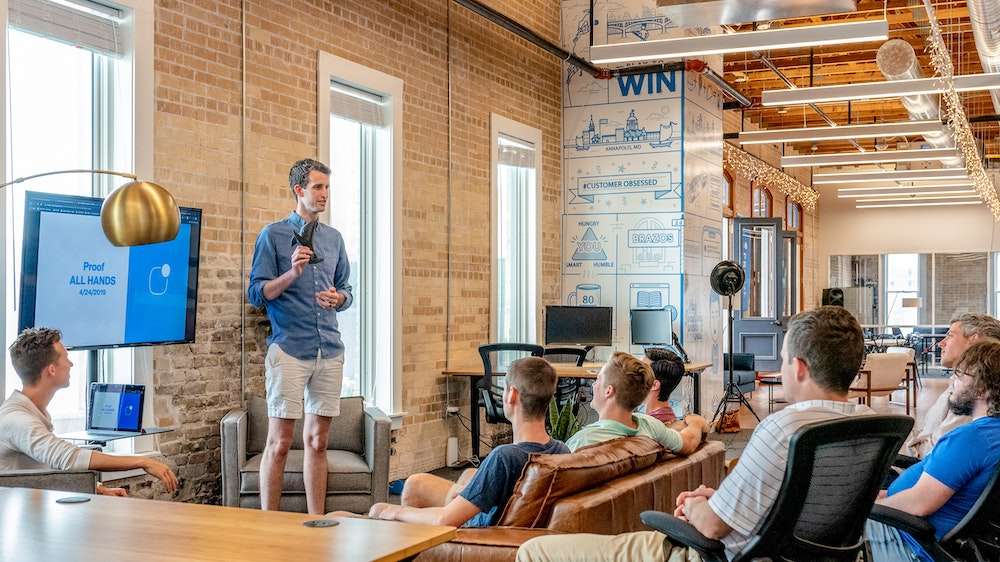 Since outsourcing its customer support, ACME's overall per-contact costs have gone down. With freed-up resources funneled into improving support, CSAT has gone up.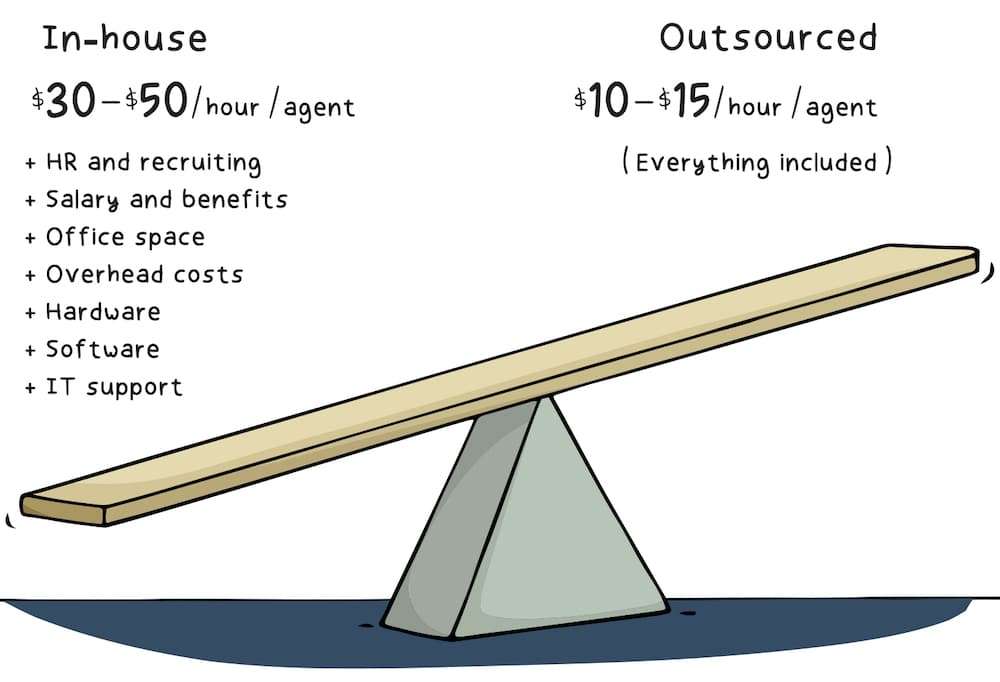 1. An experienced, highly scalable team
Includes: Team leader, active agents + backup agents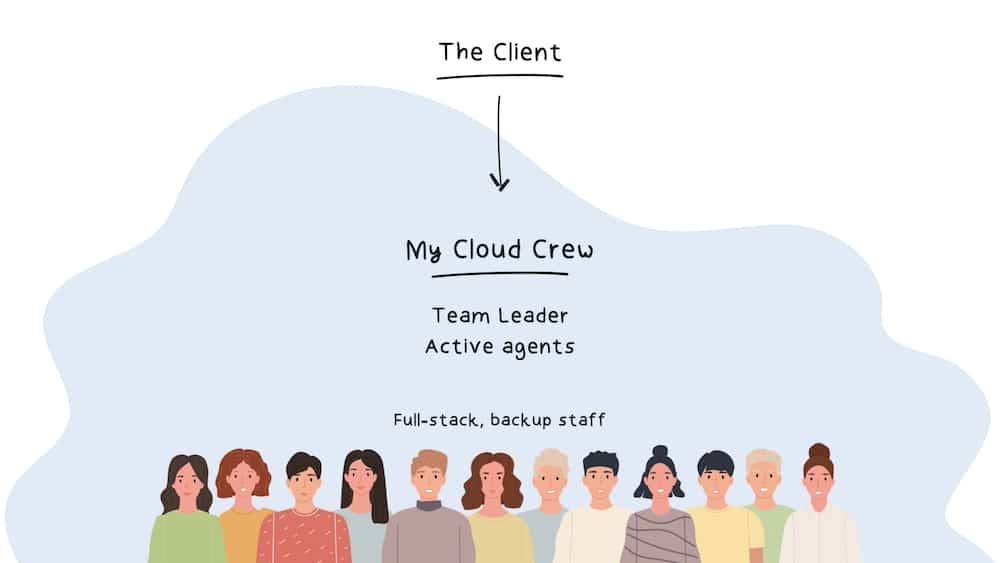 We've pioneered the new era of fractional staff leasing — our clients can build and scale an entire team for as little as 20 hours per month per role, for a fraction of the cost of traditional staffing. We have a pool of full-time talent pre-screened, trained and ready to go — across Digital Marketing, Finance, Operations and Support.
Flexibility is baked into our on-demand model. Clients can automatically scale the number of active agents up or down to meet demand.
When a customer interacts with one of our agents, they won't be able to distinguish if they are talking to an in-house ACME employee or a remote agent. Our agents are trained in ACME's services to deliver an experience that customers can't tell from the "real thing."
2. The right software
Includes: Zoho Workplace, client's software + integrations
We keep our teams lean and mean with powerful project management software.
To manage projects and communicate efficiently with our clients, we keep everything centralized in one place — Zoho Workplace. It's a cloud-based project management tool that lets our team login and find information they need within minutes. Almost every single function in our workday is integrated into the Zoho dashboard — email, internal chat, video conferencing, task management, file storage, etc.
ACME uses Intercom to consolidate all support tickets. [MORE TEXT TO BE ADDED HERE]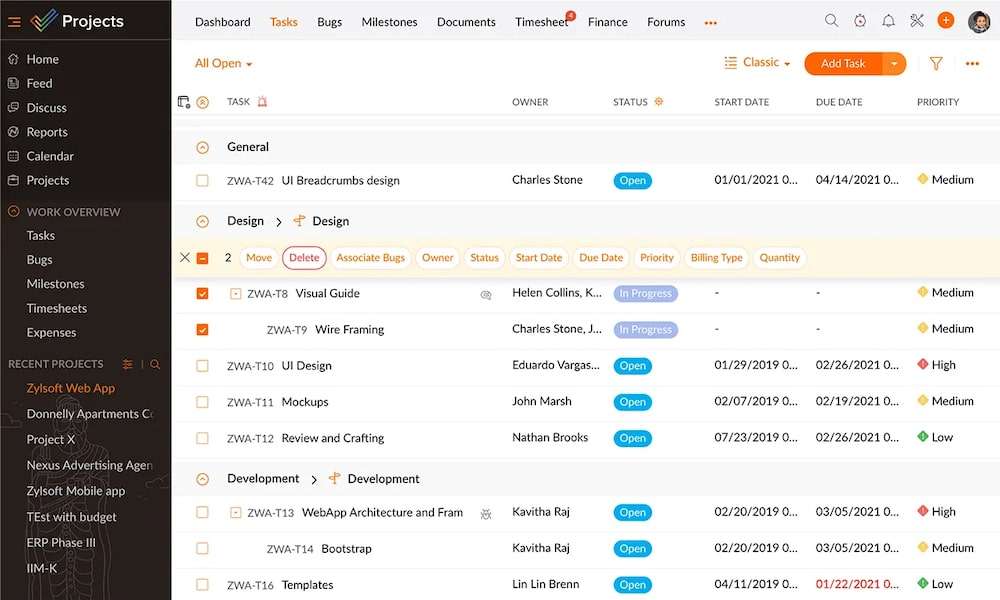 3. Onboarding, training, and knowledge base
Product knowledge training, FAQs, "Wiki"
[MORE TEXT TO BE ADDED HERE]
4. KPIs and reports
Performance metrics, + daily, weekly, monthly reports
[MORE TEXT TO BE ADDED HERE]
5. Data security policy
In some cases, clients need to share proprietary information with us. ACME shared client details, specific functionalities of their software, business objectives. We encouraged them to consistently backup their data, and recommended using database monitoring gateways and application-layer firewalls.
Security is a rule in our organization, and we have internal processes in place to enforce it. Each member of our organization is educated on how to handle and protect sensitive data. We enforce usage policies, require operating system and software updates, and instruct our employees to use modern password management apps and anti-malware protection on their computers. We also subsidize each employee's monthly subscription to a secure wireless network.
Considering outsourcing your customer support? We're ready to help.
Just fill out the contact form, and we'll be in touch shortly.
How Hiring a Virtual Assistant Brought 12 New Clients to Our Real Estate Agency
A Full-Stack Marketing Team Increased Our Store Visits by 35% over 3 Months
Hired a Content Marketing Team and Reached 1st Page of Google Organic Results