What does a paid media specialist do?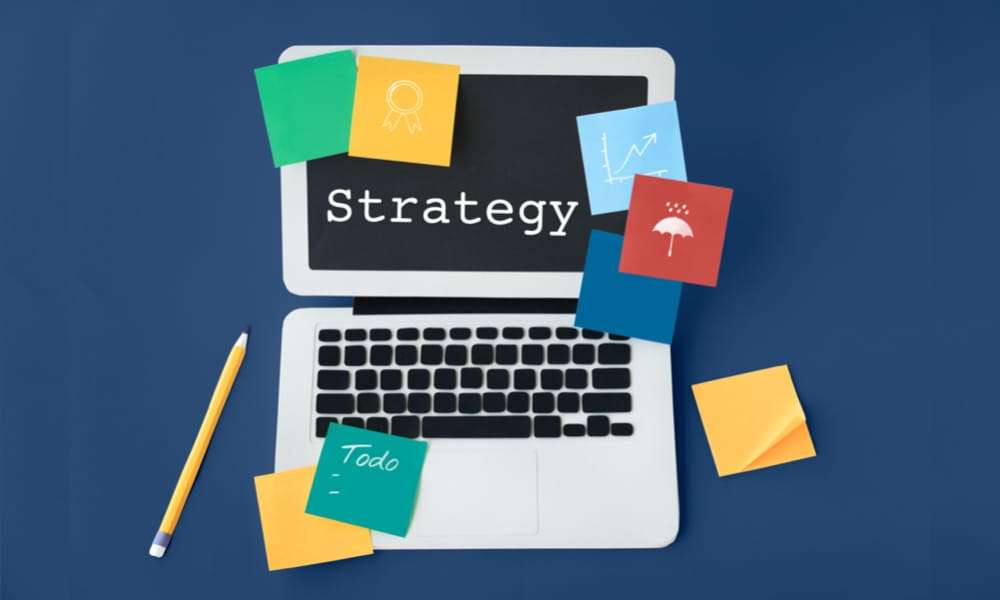 "Marketing's job is never done. It's about perpetual motion. We must continue to innovate every day."
— Beth Comstock
From designing and implementing campaigns from scratch to taking on existing accounts, an expert Paid Media Specialist can help increase awareness and achieve business goals. Paid Media Specialists work across different channels to create and execute text and rich media ad strategies to meet a company's KPIs.
Compared to the other types of digital media, paid media is relatively easy to understand. It resembles traditional advertising — you put ads together for your products or services and put them on third-party platforms where you can reach your target audience.
How exactly does a Paid Media Specialist do this? We've got you covered!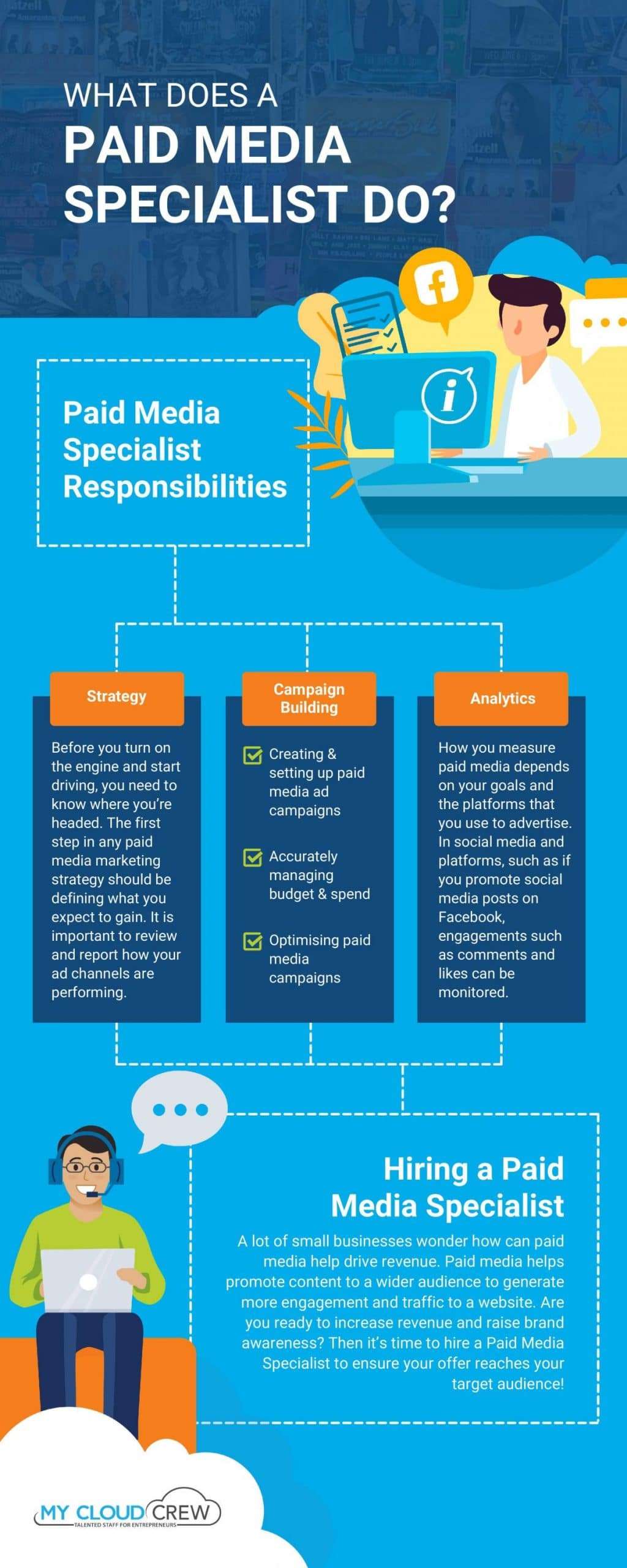 Paid Media Specialist Responsibilities
1. Strategy
Before you turn on the engine and start driving, you need to know where you're headed. The first step in any paid media marketing strategy should be defining what you expect to gain. For a Paid Media Manager, strategising means performing competitor research, as well as developing, planning, and implementing a comprehensive paid media campaign that furthers prospects along the buyer journey. This includes:
1.1 Market/Competitor research
Competitor research is the act of profiling your competitors by gathering pertinent information about them. The intent of this is to help your business achieve innovation, development, and growth based on key insights gleaned from that strategic profiling of your competitor's strengths and weaknesses. This also helps you identify the opportunities that you can capitalize on. Good competitor research should enable brand differentiation, identification of potential threats, trends, and possible innovations to further define the unique selling proportion of your business/product and possibly even learned from your competitor's mistakes so that you don't have to make them yourself.
1.2 Setting paid media goals & KPIs
Setting a SMART goal is essential for the beginning of the perfect paid media campaign. SMART here stands for Specific, Measurable, Attainable, Realistic, and Timely. Setting a goal that adheres to all these attributes so that the owners know well how they are going to proceed with their campaign is vital. Goals are established to create a roadmap for the campaign. A simple example of a SMART goal is that you have to sell 100 dresses in one week with a budget of $1000-1200 only. This sentence has all the attributes of an effective goal pursued to gain a position in the market. Or, at the end of this month, you wish to increase the traffic flow by 30% by spending $1000. Pay-per-click advertising (PPC) is a form of digital that dominates social media. PPC is used to increase the traffic on the websites and the payment is made by the advertisers whenever their ad is clicked.
1.3 Creating a Full Funnel Strategy
Any sales funnel begins with an awareness of the demographic you want to target, which is often ignored. The fact that most marketing leads don't fit the target audience is one of the main reasons why they don't convert to sales. You'll know how to sell to your target demographic once you've figured out who they are. You'll see what challenges they're trying to tackle. Then you may tailor your marketing to address those issues. Your audience will feel as though you know what they're talking about and will be able to relate to and trust you.
After you've identified your target market, divide them into buyer personas. In a business, personas are created based on a person's title, employment position, and the business function in which they operate. You can properly mark and allocate your leads based on this information. Once you've worked out your personas, you can qualify your leads based on things like relevancy, conversion likelihood, and behaviour. This is where a lead scoring system comes into play. This is the process of assigning value to your leads based on how important they are to your company. The greater the score, the more valuable the item is.
1.4 Implementing the Full Funnel Strategy
When it comes to implementing the funnel strategy, note that you are not restricted to using funnels just for sign up and/or purchases. You may also place funnels across your website to track how users go through a certain website flow. It is ideal to implement tagging leads in your CRM to help identify what stage they are in the funnel as you engage with them as they progress. For leads who do not convert right away, it is important to keep your brand at the top of their mind by nurturing them with relevant content through targeted remarketing.
2. Campaign Building
How you measure paid media depends on your goals and the platforms that you use to advertise. In social media and platforms, such as if you promote social media posts on Facebook, engagements such as comments and likes can be monitored. It is important to review and report how your ad channels are performing and which ones drove traffic to your website and resulted in sales or new leads. Analytics task for a Paid Media Specialist includes:
2.1 Creating & setting up paid media ad campaigns
Social media platforms have their respective ad builders designed to make the ad creation process as intuitive as possible. Get creative and keep your message concise while maintaining a natural tone geared towards inviting people to spend a few moments connecting with your brand and your message. Maintaining a content calendar is also crucial to help steer your paid media messages along a coherent path. The ultimate end is to help you reach the determined goals of your business.
2.2 Accurately managing budget & spend
Paid media on social channels behave just like a Google ad auction. Businesses bid for the best advertising positions on peoples' social media feeds, on pages and in Stories. Should you win the auction, you pay that amount for each corresponding click, view, like, impression, message open, app install, etc that led to the ad conversion. Different platforms charge differently for various ad formats and also have different minimum ad budgets you are required to spend daily. It is wise to map these expenses out in an organised fashion to stay on top of what is being spent for paid ad initiatives in their respective platforms. HubSpot provides marketing budget planning templates and is an invaluable resource for practitioners.
2.3 Optimising paid media campaigns
Paid media is a highly iterative process that requires close attention and adaptability on your part. Optimising your campaigns according to consumer behaviour and dozens of other market signals and maximising the benefits of respective paid media platforms requires a commitment to continual learning on your part. Algorithms change and platforms roll out or discontinue features and functionalities over time.
3. Analytics
As for pay-per-click, Google AdWords offers analysis of your Google paid campaigns, while Bing Ads covers Yahoo! and Bing. In Google Analytics, paid search, paid social and display are all separate channels, so you can track which paid campaigns drove traffic to your website and resulted in sales or new leads. Analytics includes:
3.1 Reviewing & reporting campaign KPIs such as cost per acquisition (CPA), return on investment (ROI), and return on ad spend (ROAS)
Hiring a Paid Media Specialist
A lot of small businesses wonder how can paid media help drive revenue. Paid media helps promote content to a wider audience to generate more engagement and traffic to a website. Are you ready to increase revenue and raise brand awareness? Then it's time to hire a Paid Media Specialist to ensure your offer reaches your target audience!
Get in touch and start your search
Complete the form and you will be directed to online CVs and video interviews of our talented crew who already work for My Cloud Crew full-time and are ready for interview or trial today.