How to Set Your Digital Marketing KPIs for your Business in 2022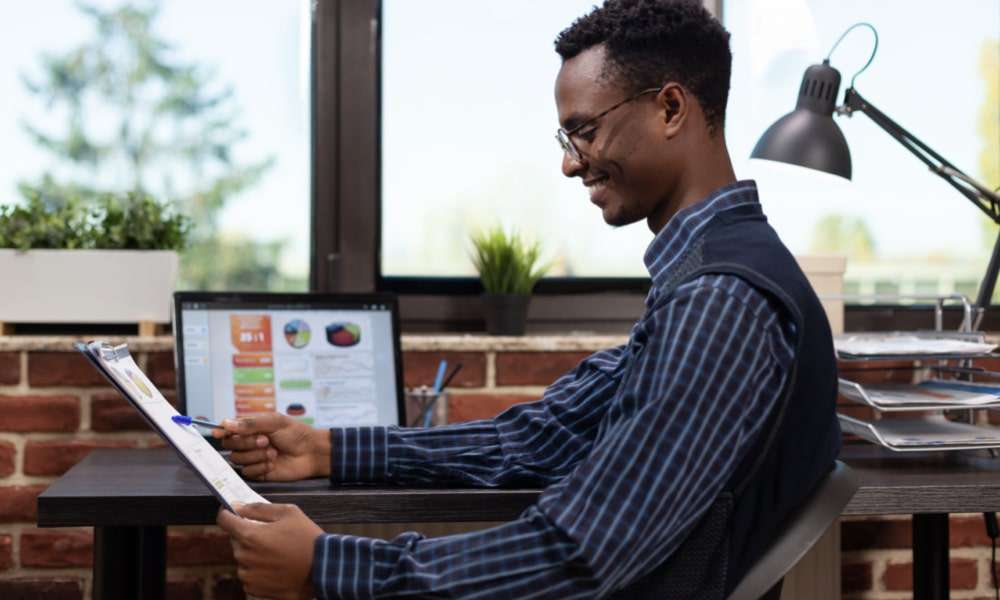 "Without actionable data and clear metrics driven strategy, the marketing organization is being paid to guess."
— Team Position2
Why knowing your Business KPI is important?
Around 70-75% of the adults in your area use social media. Having an online presence is a great way to establish a connection with potential clients and let them know you're in business.
However, posting cute images and promo announcements just won't cut it.
You'll also need to manage your marketing presence effectively.
This includes planning and strategising. Among the tasks are scheduling content publication, gathering and analysing audience data, growing your community, and ensuring interest in your brand turns to sales.
This is where Key Performance Indicators, or KPIs, come in. Establishing a series of benchmarks helps you know if your efforts are leading to tangible results. In order to see how your progress goes, you'll need to learn how to set your digital marketing KPIs.
Table of Contents
What are Key Performance Indicators?
Be SMART when defining digital marketing KPIs
Different objectives mean different digital marketing KPIs
S1: Great business on the ground, but new to online marketing
S2: Basic online presence with few followers
S3: Time to turn engagement into sales
Fit Digital Marketing KPIs to the objective and not the other way around
So you've got a nice business going. You made a cool website, plus your social media accounts are in order. Posts get published every now and then, announcing offers, and introducing new items. You get likes, even emojis. Sometimes, there are chat inquiries that you happily. However, these engagements happen few and far between.
Maximising your online presence pays off in a big way. However, there will be associated costs. If you're not prepared to pay for them, whether in terms of time, money, or effort, you'll be stuck with an underutilised social and web presence. It's bad enough that you can't generate leads, and you can also turn off potential customers if they visit your site and see the same content over and over.
Connecting with people who patronise your brand and reaching out to those who haven't heard of you is a marketer's dream. Creating an online presence is the easy part. Making sure every aspect works towards your objectives is the goal.
What are Key Performance Indicators?
Key Performance Indicators, better known as KPIs, are performance standards that businesses often set prior to embarking on tasks. At any point of the task, they can indicate your progress versus your intended results. This way, you can base further decisions on tangible data. By knowing how far or how near you are to your goal, you can make strategic adjustments to your campaigns and generate maximum results.
To utilise KPIs, you need to set the desired level of performance that syncs with your business objective. It could be increasing sales, generating awareness for new pages on your website, or growing your social media audience. Just make sure that your objectives are measurable. Otherwise, it wouldn't be easy to check on your progress and decide if the task was accomplished or not. At the same time, your desired outcome should have a set timetable. Otherwise, it's going to be a long-drawn objective with no end in sight.
During monitoring and evaluation sessions, you can benchmark progress. By checking your current accomplishments against the timetable and the targets, you can have a good idea if you're going to meet your goals.
Be SMART when defining digital marketing KPIs
When not agreed on and written, goals and objectives can often get buried and accountability thrown out the door. Especially on online marketing, you need to make sure the goals are clear and achievable. Otherwise, you may find your digital marketing crew unsure or confused about the objectives you've set. In order to avoid miscommunication, objectives should be SMART. They should be Smart, Measurable, Achievable, Realistic, and Timely.
This ensures that whatever targets are set can be tracked and measured. In case the actual performance is above or below expectations, you can make adjustments.
When breaking down individual KPIs into specific tasks, make sure that each goal supports your strategic positioning and aligns with the brand's strategic direction.
Different objectives mean different digital marketing KPIs
As mentioned earlier, your objective should be as clear-cut as possible. Especially with digital marketing, there are many different reasons to engage your brand online. We'll talk about some of the most common objectives and expectations business owners have for their online marketing efforts.
You can also pinpoint a strategy depending on which part of the buyer's journey the client wants to focus on. A company with no to little experience may want to increase its visibility and generate awareness (Stage 1). Clients with a market base may want to offer solutions to existing followers (Stage 2). Finally, the client might want more customers and would like to target those ready to make a commitment to purchasing (Stage 3).
Numbers and analytics will be all over the place as you track performance. So make sure the targets have been set and discussed with the client and the marketing team before you start with anything. Finally, don't just get all the KPIs you find out there. Rather, just select the ones that are applicable to your objectives. That way, nobody gets to drown in data.
Here are some typical scenarios. Yours may hold one or more scenarios, and that's fine. See you where your business can relate.
1. Great business on the ground, but new to online marketing
The scenario
Offline, you run a successful business catering to customers. You're a household word in the neighborhood, but you feel you're missing out on potential customers out there. Your exposure to Facebook and Instagram is limited to occasional posts, with about a dozen likes every time. You don't think much about Twitter or YouTube. Tiktok? What's that? That's why your digital marketing KPIs should focus on establishing an online presence.
What's needed
Considering your online presence is underutilised, you may want to start increasing awareness so that more people will get to know your brand. Start by enhancing your visibility over the web and getting your social media accounts to work. Once a presence is established, you can track how attractive your new site or social accounts are through basic KPIs that measure improvements in the number of people who have shown interest in your company.
Potential digital marketing KPIs
Reach: Your marketer should be able to increase the number of people following your social media accounts. While these are mostly vanity metrics, it helps paint a picture on how your brand attracts its audience.
Subscribers: For those who offered a mailing list or community membership, this metric notes how many have joined.
Traffic: This metric also measures traffic on your site. How many people come to visit, and find
Bounce rate: For those offering content on their website, this metric measures how long people stayed in the site before leaving. This is particularly important if you have content that takes more than a few seconds to read or view.
Tasks involved
This is a starter-level project. Marketers will start with building or enhancing the website and a review of existing accounts. If there are no business social media accounts, new ones will be created with business goals in mind. A campaign strategy and content calendar will be developed.
Digital marketing KPI complexity
As you start, there is little pressure. Providing your brand with a web presence and getting your social media accounts up and running should be the main objectives.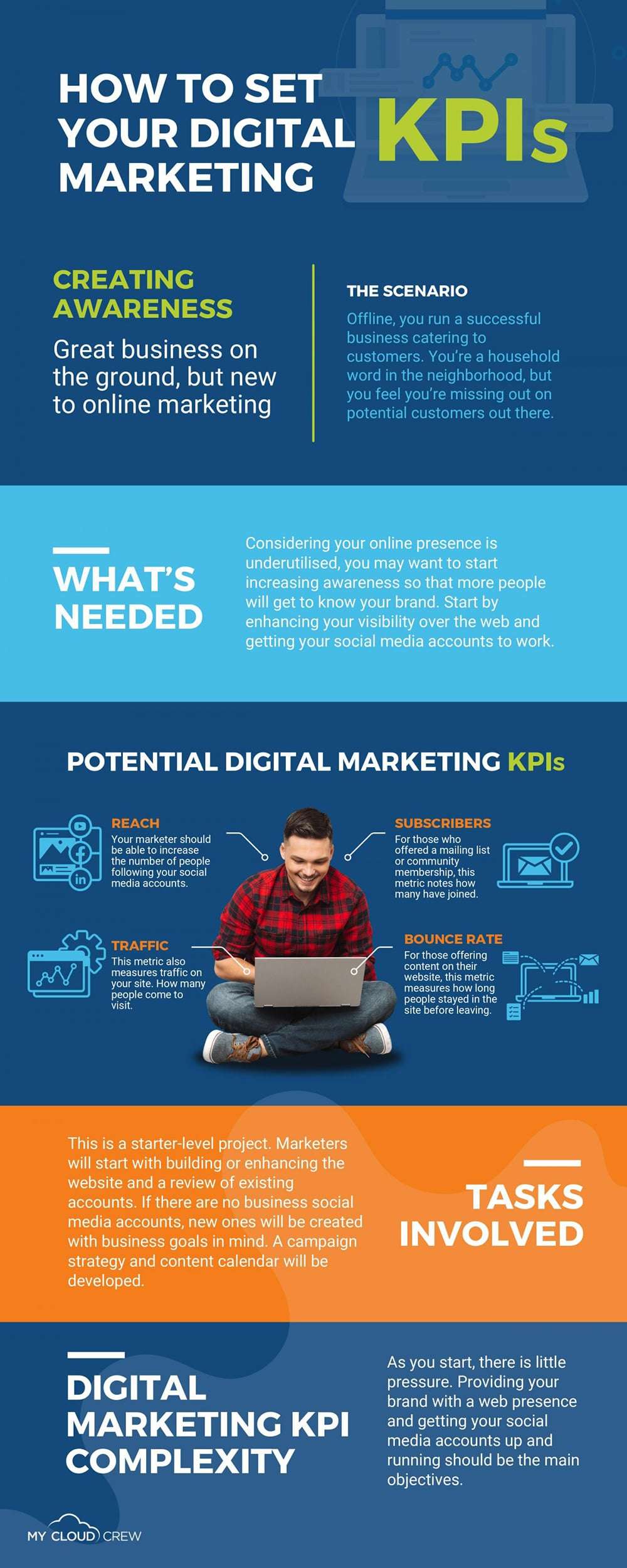 2. Basic online presence with few followers. Needs a bigger presence and engages the audience.
The scenario
A website and social media accounts are running. There are a few followers, but not enough to say there's a following. The owner has a basic understanding of online marketing but does not have the time nor the inclination to handle a digital campaign. A little help with running the show can go a long way.
Your digital marketing KPIs for this scenario involves engaging followers and making sure they see your brand as a solution.
What's needed
The intent is there, it's a matter of pointing the business in the right direction. This might mean leading customers into the consideration stage of the buyer's journey. Meeting and aligning with the business owner can help identify what needs to be done to enhance brand visibility on the web. The client might consider availing of paid services to boost reach.
Potential digital marketing KPIs
You may want to retain the metric in the previous scenario and add the following. Each company's needs are unique, so mixing and matching objectives are common.
Reach: Compare the number of followers between the time the marketing team took over the site and account maintenance. A significant increase in traffic is a reasonable target.
Social Media reach: This measures how much your content goes around beyond your site. Do users like your material enough to forward it to online friends?
Brand mentions: This metric monitors how many mentions your brand gets. Whether it's a positive or negative mention is an altogether different matter.
Media mentions: A more ambitious metric. Any media pickups by national or mainstream media will definitely drive traffic to your site.
Tasks involved
Increasing awareness will entail paying more attention to the company's online assets. The main tasks would be to ensure that the website and social media remain active. The biggest challenge is to ensure that both the website and social media accounts get display content regularly. This will require regular feedback monitoring.
Digital marketing KPIs complexity
Growing the community may be more challenging compared to starting the campaign. However, if the digital marketer knows which strategies to apply, accomplishing the digital marketing KPIs shouldn't be a problem. The client can reasonably expect to see an increase in reach and traffic.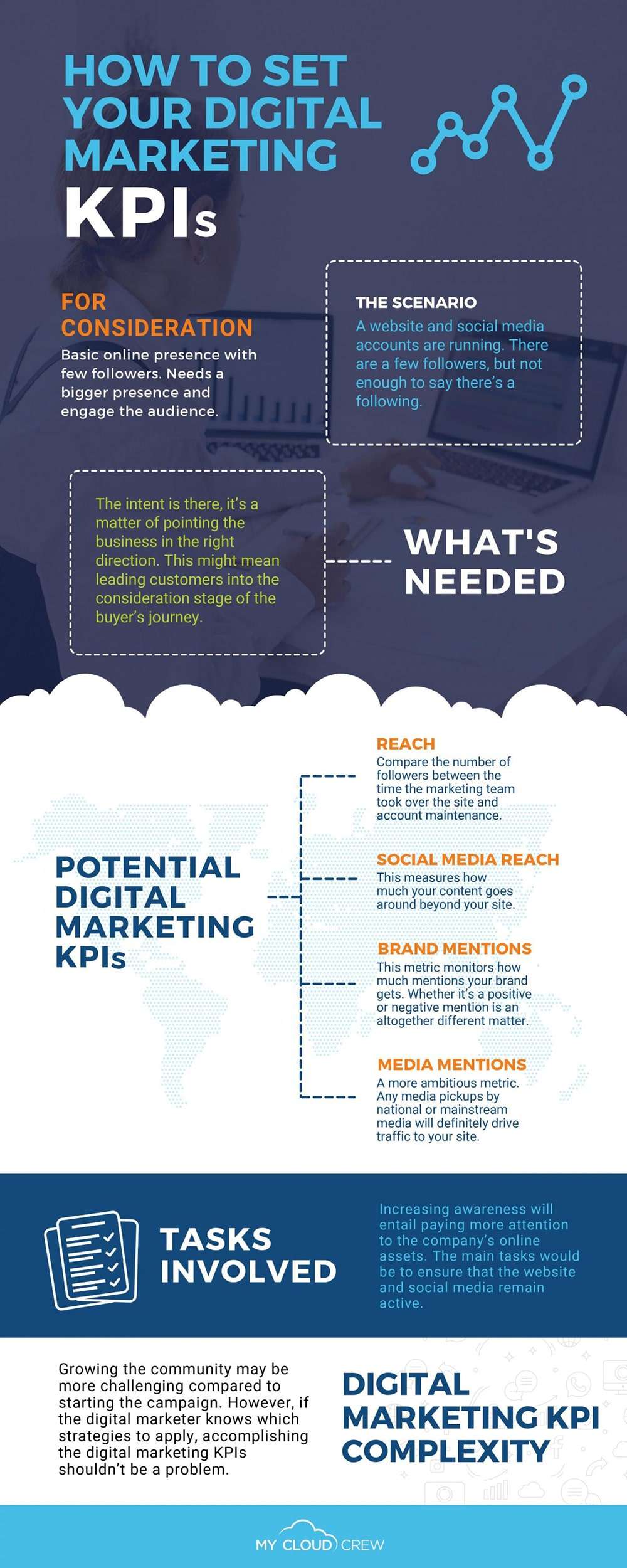 3. Time to turn engagement into sales
The scenario
This time, the client wants money to come in via sales. Revenue should comfortably cover sales and marketing costs. Existing customers are happy with their experience that they transition to repeat clients. Your digital marketing KPIs at this point is managing your audience and leading them to solutions for their problems.
What's needed
On top of converting leads to actual clients, providing a great customer experience to site visitors and account followers can lead to more conversions. You now need to funnel leads to get potential buyers.
Potential Digital Marketing KPIs
Instead of replacing the earlier metrics with new ones, you can combine old and new KPIs to give you a clearer picture of your situation. The additional KPIs give the rundown on conversion rates as well as the cost-efficiency of campaigns.
Inbound Sales Revenue: This defines how much of sales come from inbound (online) marketing and sales efforts. his can indicate where a company's major source of income originates.
Traffic to Lead: Traffic to Lead takes to account how many site visitors or social followers take the next step and express their intention to purchase.
Cost per Lead: This computes the ratio of leads versus total advertising spend. It's comparing how much your client spends per click to industry standards.
Net Promoter Score: This metric measures how likely customers will recommend your brand. A combination of a good product and an excellent customer experience can help turn buyers into endorsers.
Renewal Rate: This lists how many satisfied clients reorder.
Customer Satisfaction: This metric measures how customers felt about their experience. Buyers can fill out forms where they rate the service given them. The more happy the customers are with their purchase, the more likely they are to replicate their experience.
Tasks involved
This set of digital marketing KPIs is where things get more amped up. Apart from the routine of developing, posting and curating content, you'll now have to check their effectiveness. Ad spending will require monitoring and analysis and compared with results. Leads can be funneled so that the likely buyers can get more attention. Post-sales reports will also come in handy to determine the rate of repeat. Customer service ratings can also weigh in.
Digital Marketing KPIs complexity
There's gonna be a lot more going on. This time, you measure performance against spending. So the stakes might be higher.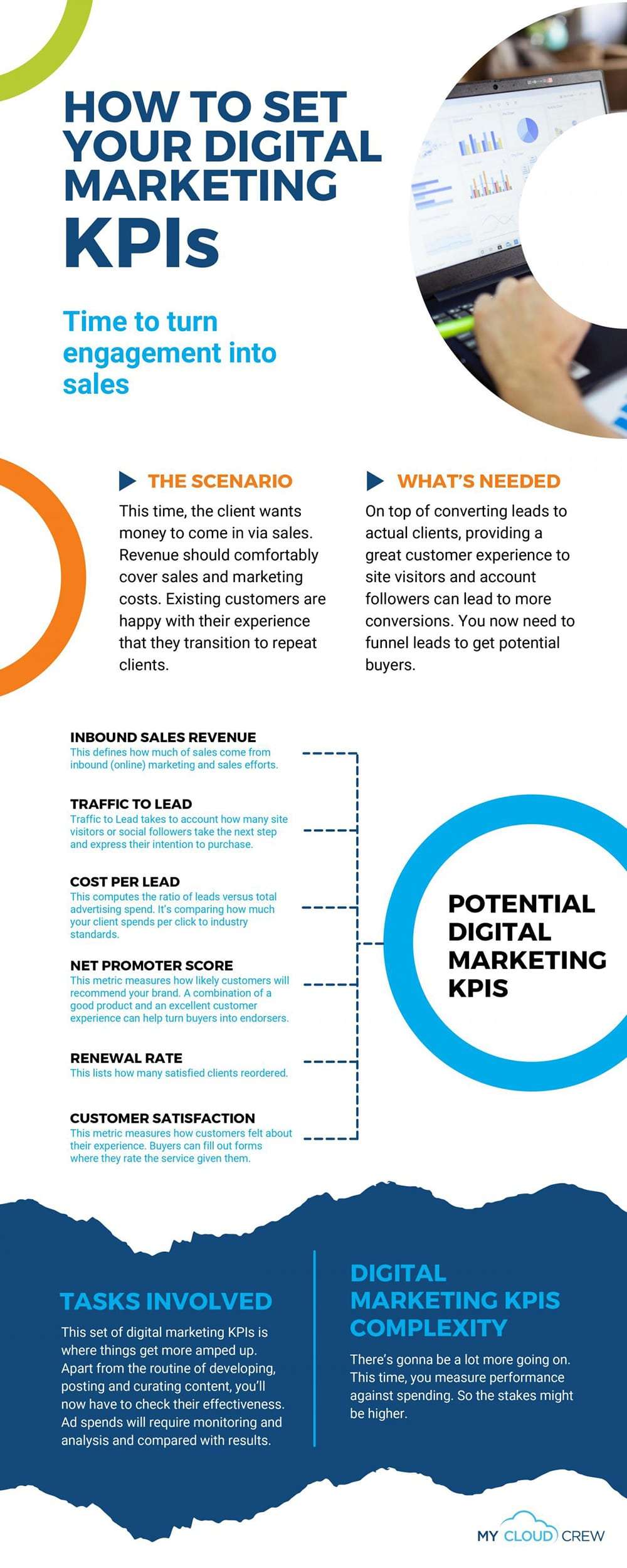 Fit Digital Marketing KPIs to the objective and not the other way around
A final word: Fit Digital Marketing KPIs to your objective. You know best how your company works and you're the best authority to say what it needs.
While the KPIs we mentioned above deal with the usual performance metrics at work, you can fine-tune your standards to accurately reflect your situation.
Once you identify your immediate goals, it's time to get your team together and set the plans in motion.
If you need help assembling your dream digital marketing team, you can check out our previous entry.
If you think your business could use help to enhance your online presence but are a bit hesitant in expanding your full-time roster, you want to consider hiring a virtual marketing team instead. MyCloudCrew offers complete virtual staffing solutions across digital, marketing, finance, operations, and support.
Even better, they come at a fraction of the cost of hiring an employee. You can enjoy the assistance of experienced digital marketers, so you can do what you do best: growing your business.