It's nearly the end of 2020. By this time, you and your company should be reaping the rewards of having an online presence!
If you haven't fully explored what the benefits of online marketing can do for your company, you might want to consider assembling a dream digital marketing team in 2021.
A Digital Marketing team is composed of different individuals with a distinct set of skills from creating content, planning strategies, and managing people in a digital landscape. Each role in the organization pursues different objectives, but head towards a common goal, a successful and profitable digital marketing campaign.
Know the essential digital marketing roles, team structure, hiring process and skills stack to grow your business. Modern companies began stacking up on inbound digital marketing skills and revamping their strategy and talent pool.
This allowed them to generate higher quality leads which cost 60% lower compared to outbound marketing.
Do you want to know how you can transform your marketing department to become an inbound lead generating machine? This article will show what a high-performing digital marketing team might look like across a variety of company sizes.
Start with Team Structure
Structuring your digital marketing team like My Cloud Crew is a huge task. Marketing is an ever-changing industry, and as the industry changes, so do team structures and job roles. Hiring the best talent will require knowing the best skills for each role.
And even if you're hiring for a startup or a small business and only have resources for 1-2 marketing roles now, it's important to know which skills are transferable. You should also identify high-potential team members who can grow into bigger roles in the future.
This section will cover different types of digital marketing roles within teams, and the required skills to excel in those teams.
We'll also go over how to build that team based on your business size. Read on and get ready to take the first step to set up your digital marketing dream team!
Small Digital Marketing Team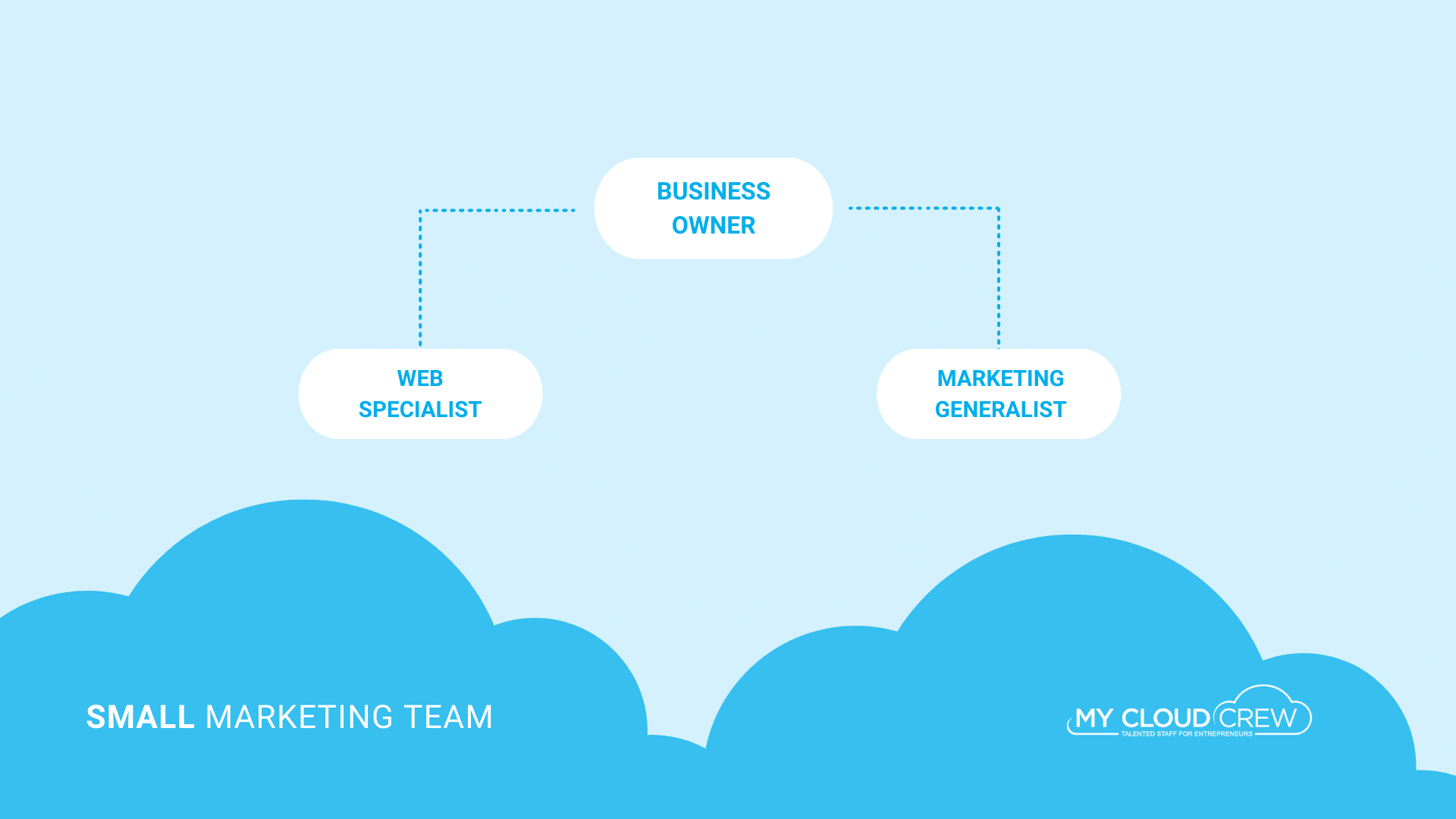 Recommended for: For Small Businesses with 5 to 50  Employees
Marketing Generalist
When your marketing resources are thin, you'll likely need an all-in-one specialist to handle minimum marketing requirements.
Top priorities include managing the website day-to-day operations, email marketing, blogging, and social media management.
Essential Tasks
Update website content regularly
Write blog posts
Write engaging copy for social and email
Design visual assets from a branded template
Keep track of content output and metrics
Your marketing generalist will create and execute all digital marketing efforts to drive awareness, generate leads, and connect with audiences. Meanwhile, the web specialist makes sure that your digital storefronts are up and running.
Together, your marketing duo should have a working knowledge of creating, scheduling, and measuring the performance of digital content. If you can afford multiple marketing roles, you may want to get specialist roles such as pay-per-click or funnel marketing specialists.
Generalist Skills Needed
Minimum skills required for generalists include content creation, website content management, basic SEO knowledge, and social media management. Familiarity with project management and graphic design will also come in handy.
It helps a lot if generalists are regular social media users themselves.
Knowledge of content creation software such as Canva, WordPress, or Adobe is necessary. In addition, analytics tools like Google Analytics or Ahrefs, can help teams track and measure performance.
The Marketing Generalist will also need to be comfortable with customer service, as they might be asked to respond to customers via social media messages or posts. Outside of direct replies, brand messages are usually made through content copy, blog articles, and social posts. In order to reflect the company's voice accurately, an understanding of the company's goals and objectives is key.
Read about the 21 Essential Skills of a Full-Stack Marketer.
Medium-sized Digital Marketing Team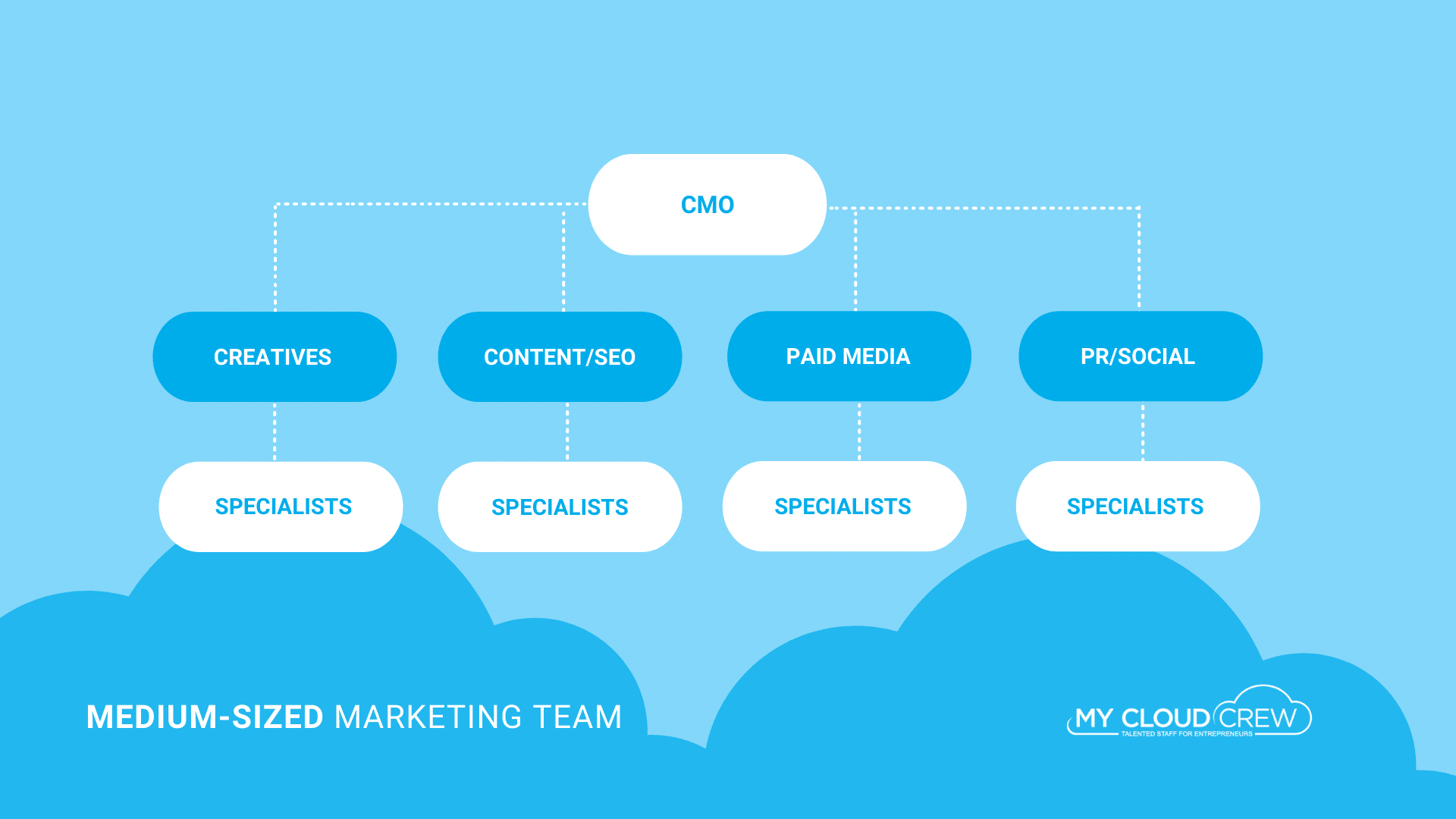 Recommended for: For Medium Enterprises with 50 to 500 Employees
At this size, a business will have the capacity to bring in executive-level expertise to lead the following specialist teams and scale marketing efforts.
Creative Team
Hiring in this environment can be tricky. You can find folks who have done tons of email marketing but have never had to come up with the actual content offer itself. Steer clear of one-trick ponies, and opt instead for someone with perhaps a little less depth of experience but great overall communications skills and marketing savvy.
Skills needed
The creative team will require a diverse set of skills to complete the job at hand. This includes knowledge in a number of disciplines, including programming, creative design, and communications.
Familiarity with web tools, creative suite programs, and communication software is required. As your company grows, you may find the need to hire a creative team full-time.
This helps build and maintain a distinctive and cohesive visual style across all platforms, both physical and digital storefronts. The creative team will be responsible for all brand imagery, so somebody who is proficient in design, strategy, and web optimization should be top of mind.
Your web design team will use their mastery of programming and web design tools to create and maintain the message your website is conveying. As such, they will work closely with content teams, so the ability to collaborate is essential.
They will be the point of contact for someone who runs into a problem on your website and should be able to fix any technical issues that may arise. You should trust your web design team to create a user experience that keeps customers coming back.
The general function of a web designer is to make the web page experience seamless, optimized, and engaging for every visitor. They'll use their expertise to deliver a delightful experience to customers who interact with your business's web pages.
You can structure your web design by need. However, if you can afford to build out an entire team, you can start hiring senior web developers for a quicker turnaround. Meanwhile, associate-level hires can assist with those job duties as your design team grows.
Content Team
Larger companies hiring for a content creation team can hire by skill or by the needs of other teams.
For example, Social Media Agencies need content creators for every client or group of clients. When building this team, make sure that your content creators are familiar with online management software like WordPress, YouTube, or Facebook Creator Studio.
Skills needed
The content team will draw their strengths from skills such as technical writing, feature writing, copywriting, editing, organisation, and search engine optimisation. Content creators will be the ones making sure your brand has enough content to tell a cohesive, compelling story.
The content they produce will be useful in every facet of your marketing function, from video to blog posts.
They are skilled writers and usually know how to create a solid blog post or webinar. They also have to be keen on editing — their blogs, videos, and social media content depends on it.
This team will be the go-to for the production of high-quality multimedia assets for your business, including podcasts, videos, ebooks, or other materials as needed. They may have to work on projects with other teams to make sure the messaging is correct, so your content creators should be ready to collaborate with others.
Hire a content creator who understands the story of your brand and brand voice.
Their methods of sharing your voice through video, podcast, or ebooks should ultimately incentivize prospects to learn more about your business.
Read about Creating an Effective Digital Marketing Plan. 
SEO Team
In a mid-sized company, the SEO Strategist might be melded with a content writer role.
If that's the case, make sure that the SEO functions are being carried out by someone who has an understanding of analytics and optimising content for search engines, as well as conducting thorough keyword research.
In other words, if they can't speak Google or Bing's language, they probably aren't the right fit.
Comprehending analytics and optimising content for SEO purposes will help your business rank on search engines and reach new prospects, or nurture leads until they're ready to purchase.
Skills Needed
The SEO Specialist will mainly be driving traffic to your web pages by optimising content and using the keywords necessary to rank on the SERPs for topics related to your product or service.
To accomplish these goals, SEO teams need to be made up of individuals with strong technical, programming, and writing skills.
Some SEO functions require writing, editing, and proofreading content to optimise it for audiences.
This is where having a strong writing background will come in handy. SEO teams should be excellent problem-solvers and think about how to optimise content specifically for search engines.
In addition, SEO specialists should be fluent in analytics software to ensure they're able to incorporate the lessons from those metrics into their overall strategy.
From there, you can hire project managers and team managers who are experts in the field of SEO and can offer seasoned advice to other team members, as well as manage multiple SEO projects at once.
Paid Media Team
Your paid media team is customer-obsessed!
They follow your potential customers' media consumption – what they're buying, watching, reading, and liking online on any device.
Companies that invest in customer acquisition through the strategic use of media platforms are engaging the expertise of skilled Paid Media Specialists, hoping to reach their target customers and get their message to spread across multiple channels.
To be a competent Paid Media Specialist – Media Planners and Buyers – requires diligence, analytical thinking, and a keen sense of audience behaviors and preferences. Without knowledge of marketing tech tools, software, and data that provide insight and structure, it is next to impossible to succeed in this role.
Media planning and buying tools like Google and Facebook Ads help the Paid Media Specialist to deliver your message strategically, calculate reach and measure its impact.
PR and Social Media Team
This team is in contact with your customers — they will introduce audiences to your brand, and advocate for the company.
A skill valued in this team is attention to detail; these teams have to be experts in how products can help customers and capitalise on little moments that can enhance the customer experience.
The biggest question for the PR and Social Media team to answer is, "How can we engage the customer and influence them to share their delightful experience with our brand?" Creating compelling content offers and tracking their performance will be essential for teams to make a significant impact.
Enterprise Digital Marketing Team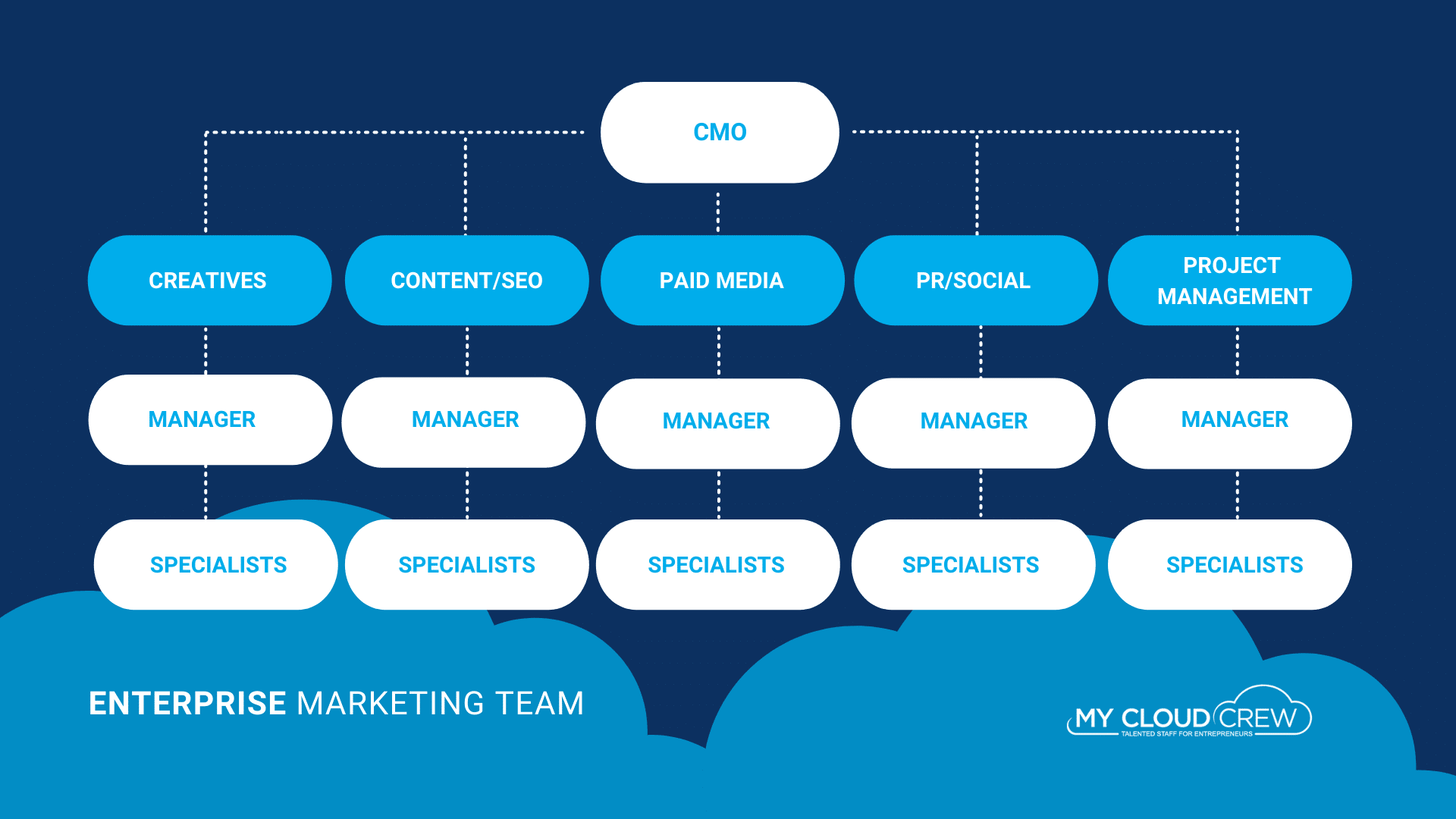 Recommended for: Upwards of 500 employees, big brand-type companies where it starts to get massive, siloed, and global.
A large enterprise can expand its Creative, Content/SEO, Paid Media, PR and Social Media into full-time departments having specialists and managers to lead and execute an integrated marketing strategy across multiple channels and platforms.
Some companies employ Project Management teams to lead marketing operations.
Enterprise teams usually consist of 4-5 members, each with their own specialised roles. While each team has a dedicated task ahead of them, it pays to have teams align and coordinate with each other to ensure that a consistent brand message is delivered every time.
Creative Team
Head Creative Designer
Video Production Specialist
Web Developer
Graphic Design Specialist
Content SEO Team
Head Content Creator
Technical Writer
Copywriter
Senior SEO Strategist
Optimisation Specialist
Paid Media Team
Head of Paid Media
Pai