10 Principles of Good Web Design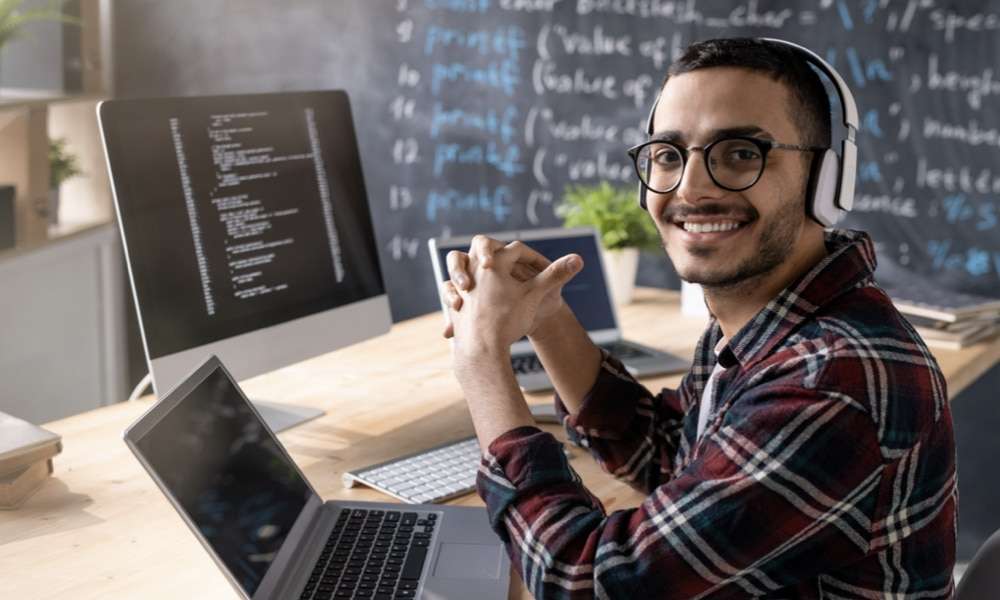 Web Designing is a vital online marketing tool for all fields, sizes of businesses and all industries; considering the 7.83 billion population worldwide, Internet Statistics 2021 reports that 79% of the world's population are active internet users. Given that most users retrieve information online and in today's current situation, most transactions occur online, it is essential to guarantee that the public perceives your website design as pleasing and usable. Thus, branding, good usability, and accessibility should be the apparent elements of an effective website.
The goal here is more than creating an aesthetical website; It should be a Growth-Driven Design. Your team of designers and developers should be working on a strategic approach to developing an impactful Website. Here are ten principles that will help you and your team in designing a good Website:
1. Authenticity
A report of ZimmerCommunications shows that 80% of people look at the authenticity of a website content, which determines whether or not they support a brand. Being truthful with your design leads to cultivating a good relationship with your clients and your brand. Trust and honesty are the two essential elements in building and maintaining a relationship–which is hugely related to business as you interact with clients and future customers. An authentic design aims to showcase a business's strengths rather than concealing its weaknesses; by doing so, you can communicate the value-based benefits your clients will receive from working with you.
"Good design is honest. It does not make a product more innovative, powerful or valuable than it really is. It does not attempt to manipulate the consumer with promises that cannot be kept." — From Vitsoe's "The power of good design."
Good web design utilises original images and videos; technically, these are the most consumed resources online. It communicates a message through a visual representation of your content. Hiring a team of photo/video artists adds up to more original content. Crafting your business's Value Proposition will also help you communicate what you primarily do. Remember to state simple and clear information about the company and their services. Other ways to establish authenticity are by displaying trust badges, preparing a list of FAQs, securing a website's SSL certificate (Secure Sockets Layer), and featuring a concise benefit list about business services, and lastly, highlighting client testimonials and reviews about the business. A positive light helps build trust.
2. White space
It balances out everything in it. It makes the viewer focus more on the main subject as it certainly creates harmony within the layout. Simplicity and unclutteredness in this sense establish more organised content. The goal is to make people want to read your website's content, thus developing pleasant and not overwhelming layouts. Take note that a tidy site is an Impressive Site.
3. Typography
Words matter, but how it is presented matters most. As Jeff Cardello defined it, Typography is a vessel for thoughts. Thus, its stylisation depicts meaning or impression. It also maintains consistency in the website and helps it look more aesthetically pleasing and professional. As a Web Designer, it is essential to familiarise yourself with the appropriate fonts for every industry or brand while understanding the very image the company or brand wants to portray, as to how they want to be seen, or what message they wish to send through. When using Typefaces, make sure to limit the combination between 2-4 as it might confuse the viewers and make your layout more disorganised. Several points to be considered are the alignment of the texts, the sizes, weight, strokes, and most of all, using web-safe or original Typefaces for your design.
4. Visual Appeal
The colours and hues you use tell so much about the brand. Great graphics make a website appealing. It draws attention more than anything else; Working with an established Graphic Artist and Designer will help you create a remarkable first impression. Through an aesthetic visual appeal, It will help the brand communicate on a more emotional level.
5. Visual hierarchy
Putting things in order is essential as it influences the perception of users, guiding them to their desired actions. Nielsen Norman Group states that When a user is having a hard time figuring out where to look on a page, it's more than likely that its layout is missing a clear visual hierarchy. Since it primarily controls the delivery of the experience. As a Web Designer, you should be able to manipulate the size, colour, texture and style, proximity or placement, repetition, alignment, contrast, and whitespace within the layout.
6. Content
A concise, informative, and straightforward content leads your viewers to a particular action you'd want them to do. This principle may include videos, blogs, images, and the totality of the website. Kuucheriavy of intechnic.com emphasises how research-supported content dramatically affects the value of a Website. Thus, working with a team of content writers, content marketers, videographers & producers for visual content, and project managers are vital in this aspect of Web Designing.
7. Intuitiveness
Intuitiveness is the ability to anticipate what your visitor is thinking and being able to cater directly to their needs. An intuitive design offers familiar elements, such as responsiveness, explorability, efficiency, predictability, and discoverability. Explorability is using a website without the fear of getting lost in the process; thus, the designers should avoid unclear navigation models, hence confirming more precise actions. Efficiency comes in when the website itself does not have unnecessary interactions or repetitions; A designer must know how to create a good layout and sizing and use defaults correctly. A website's predictability meets user expectations; it foresees results before action thus, being more consistent with user mental models. Lastly, discoverability is the ability of a website to make a starting point obvious; it has the capacity to find features when needed. Therefore, web designers should prioritize creating an excellent and clear layout, making sure not to overcrowd it with too many competing options.
8. Interaction
Genuinely effective web design encourages viewers' participation, keeping their attention on both the website and the brand. Shaping the user experience significantly focuses on building communication between the services and products of the business and its users. A website that has an interactive tool integrated into it increases its chance to convert to sales. As Neil Patel emphasises, "Improved UX Using Interactive Tools may convert customers."–and adds up the confidence to customers for their large purchases. Interaction allows the business to personalise their marketing; New Epsilon research shows that 80% of customers are more likely to buy from a company offering a personalised experience.
9. Information Accessibility
This principle is closely related to the authenticity of a website but focuses more on placing critical information in plain sight, in an area that's easily accessible. Making things easy for your users makes them want to stay a bit longer rather than be annoyed in the process of looking for key information about the brand.
Building a knowledge-based website helps route traffic to its website, a great chance to strengthen its SEO foundation. Providing helpful and valuable content leads to recognition and repeated returns on the company's website. It also adds to the improvement of customer engagement with both the brand and its services; simultaneously, it increases the opportunity for more web visits.
10. Conversion
A website is an essential client generator; there can be an increased awareness of all the services you offer via your website. Crafting a good web design has a huge factor in bringing new clients and maintaining existing clients. Thus providing the right tools and information will boost website conversion.
To increase conversion and engagement, web designers must be familiar with the digital marketing conversion terms, such as the soft conversion vs hard conversion. Soft conversion happens when a target audience/customer seeks more information before making a final purchase decision—a valuable type of conversion that requires more time and sustaining. Hence, brand, product, or service affinity and positive social media engagement and shares are vital in this type of conversion; It simply demonstrates a clear interest. While Hard conversion pertains to a more traditional method such as form submissions–setting up a demo or free consultation, seek buyer interaction via chat, phone calls, or email, Inviting people to register to download a piece of mega-content, offering surveys or quiz, inviting people for webinar sign up, or enable buyers to request for proposal or quotation. It distinctly signals clear intent on the consumer's part.
An interesting tool that can help generate conversions is pop-ups; it plays a vital role in catching online users' attention, giving them a chance to glance at the ad's content before moving into another tab. It somehow offers a "last-chance" to distil their choice down to a yes or no buying decision. In addition to that, featuring other social media platforms, the company is actively part of and producing weekly blogs related to the company's values and services. Web designers are advised to work closely with content marketers to create a more efficient and effective Web design and Web marketing strategy.
Creating a good Web Design requires knowledge of its significance to your business and your audiences. Take note that all principles stated above are interconnected. Designing a website takes a team of skilled professionals working together to provide accurate and efficient projects.
As for small business owners and entrepreneurs, being aware of the current statistics and trends in Online Marketing will encourage you to step up your game, most especially investing in your business' online visibility. With the immense numbers mentioned earlier, you might want to give your audience a positive mark via your website as it sets impressions on your branding and services.